Clients Testimonials - What our guests say

Have you been traveling with us? We would be very happy to read your testimonial and feedback about your experience on Flores

---
30.12.16
Hello Romana
I have arrived at the Capa hotel, it is perfect - thank you.
It's been a great trip, thanks to your organisation. I won't hesitate to recommend you to others.
Best Regards Kate
Country: UK
Tour: 5 Day/4Nights -Highlight Tour Komodo & Kelimutu
---
30.11.16
Hi Richard and Gisela
I just want to say thanks for organising our trip at such short notice. We had a fabulous time and saw a lot of beautiful Flores. The trip was very well organised and our guide and driver, Cosmas and Hermus were terrific. We felt like the Duke and Duchess of York the way we were treated. We had an unfortunate incident where my wallet went missing from our room at the Kelimatu Eco-Lodge and Cosmas and Hermus worked tirelessly with staff at the lodge to try and find out what happened to the wallet. In the end the staff found it and flew one of their staff members to Labaunbojo to return the wallet and also paid me back the missing money. All above and beyond, we were quite chuffed. So please mention to Cosmas and Hermus that we were more than happy with the treatment we received on the tour. The Komodo trip was fabulous.
Kind regards
Mike and Leonie
Country: Australia
Tour: 8Days/7Nights Flores Overland and 2Day/1Nigh on Boat in Komodo National Park
---
17.11.16
Hallo Gisela u Richard,
der Urlaub ist vorbei u der Arbeitsalltag hat mich wieder im Griff.
Alles hat hervorragend geklappt u wir konnten unseren Urlaub aktiv genießen.
Ich möchte auf diesem Weg noch einmal mein Lob für die sehr angenehme u kompetente Art unseres Fahrers Donato loswerden.
Donato war jederzeit bereit uns zu unterstützen, gab Hinweise oder Empfehlungen um alles noch besser u komfortabler abzuwickeln, bzw dachte auch voraus.
Dazu hatte er die Geduld unendlich lange auf uns zu warten, bis wir alle Fotos im Kasten hatten, oder bis wir einfach lange genug in den Hot Springs von Malanage gelegen hatten um uns von der anstrengenden Besteigung des Gn Inerie zu erholen. Niemals hatten wir das Gefühl das wir seine Geduld überstrapazieren o.ä.!
Dafür noch einmal vielen Dank u 5 Sterne!
Mit freundlichen Grüssen / Kind regards,
Dirk Neumann
---
1.11.16
Liebe Gisela, lieber Richard!
Herzlichen Dank für die tolle Reise durch Flores und Komodo! Alles war wunderbar, angefangen mit der Planung und Organisation, Ihr seid auf alle unsere Wünsche eingegangen und es so individuell wie möglich gestaltet. Vielen Dank dafür! Dann war die Reise an sich, mit super nettem Team vor Ort: Donatus und Yanni, später Safe und die Komodo-Schiff-Crew. Alles liebe Leute, die uns das wunderschöne Land mit viel Freude und Engagement gezeigt haben! Wir sind begeistert von der Ursprünglichkeit von Flores, von der schönheit Natur, der freundlichkeit der Menschen. Die Komodo Inseln sind ein Traum, den man mindestens ein Mal im Leben erleben muss! In dem Sinne- Auf Wiedersehen und Do Zobaczenia! Herzliche Grüsse!
Name: Magdalena B, Country: Germany
Tour or Package: Flores-Komodo
---
26.10.16
Hello Gisela and Richard,
We are now back from Flores since a week and getting used to 20°C less. We would like to tell you that the trip was perfect. Guide and chauffeur have been kind, efficient and most helpful. Your hotel selection met our expectation and everything was delivered without hassle or surprise. The cook on the boat to Komodo island was absolutely outstanding. We would like to thank you also for having anticipated that we would be hungry on the flight from Denpasar to Yogyagarta and booked in-flight meals.
We have enjoyed the whole trip however, due to unpleasant attitude of the village people and the lack of activity, we have chosen to come down in the afternoon from WaeRebo to Dintor Guesthouse to have more time the next day as the road is very long to go from Dintor to Labuan Bajo. We would recommend doing this or at least proposing the option as spending the night in Wae Rebo seems to add very little value to the visit of the village.
Best regards
Marie-Odile and Pol Country: Belgium
Tour: Flores & Komodo Tour 15 Days/14 Nights
---
21.10.16
Hallo Gisela und Richard!
Wir bedanken uns an dieser Stelle für eine faszinierende Flores-Rundreise. Die Vorbereitung und Buchung mit Euch und Euren hilfreichen Tipps hat bereits sehr gut funktioniert. Das Gleiche gilt auch für die Rundreise selbst; die Insel und Ihre Bewohner sind zauberhaft; alles ist, wie erwartet, noch nicht so touristisch erschlossen und naturbelassen. Ursula (unser Guide) und der Fahrer haben zu jeder Zeit bestens für uns gesorgt und Ihre Sache hervorragend gemacht. Wenn wir wieder eine Rundreise in dieser Region planen, werden wir uns sehr gerne wieder vertrauensvoll an Euch wenden. Viele Grüsse Daniela und Robert
Name: Daniela und Robert, Country: Germany, ✉ r.ofenhitzer(at)gmx.de
Tour or Package: 6 Tage / 5 Nächte Rundreise Flores
---
10.10.16
Liebe Gisela und lieber Richard.
Wir möchten uns noch einmal recht herzlich für die super schöne Reise quer durch Flores und die traumhaften Tage auf dem Boot bedanken. Alles war bestens organisiert, inklusive der Anreise über Bali mit 2 übernachtungen. Wir haben ganz viele Eindrücke von der schönen und landschaftlich sehr abwechslungsreichen Insel Flores gewinnen können.
Einen besonderer Dank möchten wir auch unserem Guide Konrad und Fahrer Ito aussprechen. Beide hatten immer ein offenes Ohr für unsere Wünsche und unsere Fragen. Es war eine sehr schöne und entspannte Athmosphäre und wir haben die Reisetage sehr genossen.
Tour: 9 days/8 nights Flores Island Overland Tour
Iris Dabrunst und Christian Wessel, Wermelskirchen
---
10.10.16
Lieber Richard, liebe Gisela,
da wir sehr lange Urlaub hatten, hat uns der Alltag in Deutschland ohne Gnade seit dem 21.09.16 wieder ganz schnell eingeholt. Wir sind jetzt beim Sortieren der Bilder und denken ständig an die schönen Tage zurück. Für die gute Vorbereitung und Organisation möchten wir uns noch einmal ganz herzlich bedanken. Die Ausflüge und die Unterkünfte, es hat alles super gut geklappt. Der Reiseleiter hat uns sehr gut betreut und durch ihn haben wir viel von Land und Leute erfahren und hatten auch gemeinsam Spass. Unsere Erwartungen wurden weit übertroffen. Mit der Insel Flores hatten wir auch ein sehr schönes Ziel ausgesucht. Mit den Entfernungen haben wir uns sehr verschätzt, aber unser Fahrer Silvester hat alle Schlaglöcher und engen Straßen prima gemeistert und wir haben uns sicher gefühlt.
Habt also nochmals vielen Dank für die Organisation, Durchführung und Betreuung unserer Flores-Reise, an die wir uns sehr lange erinnern werden.
Wir wünschen euch alles Gute und vielleicht kommen wir in ein oder zwei Jahren noch einmal nach Indonesien und nehmen wieder Kontakt zu euch auf.
Mit freundlichen Grüssen Barbara und Reiner R.
---
29.09.16
Dear ibu Romana,
Saya ucapakan terimakasih atas arrangement tour Flores. Rasanya masih kurang ya untuk menjelajahi Flores hingga larantuka. Semoga saya ada kesempatan lagi untuk berkunjung ke Flores yg indah. Sekali lagi terimakasih banyak.
Best regards,
Linda P.
Tour or Package: 5 Days-Highlight Tour
---
19.09.16
Vielen Dank für die tolle Zeit. Die Highlights of Flores in 5 Tagen war absolut toll. Die 5 Tage waren bestens ausgenutzt und wir wuenschen Gisela und Richard noch weitere so zufriedene Besucher wie wir. Kristopher unser Tourguide und Fahrer hat uns bestens versorgt und unterhalten. Wir vermissen ihn und Flores jetzt wo wir wieder zuhause sind. Für alle die noch dahin wollen: Flores ist eine wunderschoene Insel der Toleranz und Harmonie und voll schoener und einzigartiger Landschaften. Die Bewohner sind froehlich und offen gegenueber Besuchern. Also nur Reisende mit guter Laute und Offenheit für die Wunder der Landschaft und Kultur sollten dahin. Wir kommen wieder, beim naechsten Mal auch laenger.
Familie Webster, Schwarzwald, Germany,
Tour or Package: 5 Days-Highlight Tour
---
17.09.16
Hi Gisela and Richard
I have just returned home from Flores as I spent 2 weeks with my daughter in Darwin so this is the first opportunity I have had to contact you.
Anita and I had a fabulous time in Flores. The island is beautiful with such variey of landscapes from crystal clear beaches to colourful volcanoe lakes, traditional villlages, lush rain Florest and misty mountains. Our guide and driver were fantastic, always polite, punctual and thoughtful. Jerry in particular was very knowledgable and went out of his way to show us many native plants, explain local culture and customs, and keep us entertained with songs and jokes. He made each day special, relaxed and fun, he was open to suggestions, and we never felt rushed. He is very good at his job and made our tour so enjoyable. From the time that Romana met us at Maumere airport, everything ran very smoothly. All accommodation, meals and tours were great, and having everything paid in advance as part of the package made the tour very easy.
I would highly recommend this tour and your tour company to anyone, and am happy for you to use this email as a testimonial.
Good luck with future tours and I wish your business every success.
Kind regards Bernie
---
17.09.16
Hallo Richard,
Seit 2 wochen sind wir wieder in D. Die Koordination aller von uns gebuchten Reiseeinheiten hat super geklappt, so dass wir auf einen sehr schönen Urlaub in Flores und Bali zurückblicken können. Schade , dass wir Sie in Flores nicht angetroffen haben, so bleibt uns dieser Weg, um uns noch mal für die gelungene Organisation zu bedanken. Bis zum nächsten Mal verbleiben wir mit besten Grüßen aus dem langsam herbstlichen Deutschland. Christiane & Franz Josef
---
15.09.16
LIeber Richard, Schon sind wir in Kupang. Unser Flores Aufenthalt war ein Riesenerfolg. Wir haben jeden Tag genossen! Ablauf und Organisation waren Bestens! Yani ein sehr professioneller und liebenswerter Guide, Hermes ein hervorragender Fahrer. Die Beiden sind uns richtig ans Herz gewachsen. Ein tolles Team! Ich darf mich bei dir nochmals ganz ganz herzlich für die schöne Zeit, die du uns bereitet hast, bedanken. Auch für die Organisation der Flüge etc. Das war alles sehr hilfreich. Mit lieben großen, auch an Gisela, Christian und Lissy von Jordan
---
14.09.16
We did a 15 day private tour and enjoyed one highlight after the other. The tour was flexible and brilliantly organised. I couldn't speak highly enough of our guide. He was extremely knowledgeable, funny, easy going and professional. We were never rushed, it felt as if we were travelling with a friend rather than with a guide. He would always try and accommodate our wishes and he taught us some great Indonesian songs along our walks. Thank you also to our lovely and very patient driver Christo. Flores is beautiful and because of you two we were able to enjoy every bit of it. I highly recommend this trip.
Name: Anita Senior, Country: Australia, ✉ iasenior(at)westvic.com.au
Tour or Package: 15 days/14 nights detailed Flores and Komodo tour
---
13.09.16
Thank you for a wonderful and well-organised tour
Dear Flores Indonesia Tours Team,
I (as well as my three companions) wanted to thank you for our tour from Ende to Labuan Bajo. We enjoyed it very much and although the curvy roads of Flores were sometimes a challenge for us, we always felt relaxed and safe. It was a pure holiday feeling as we never had to worry about accomodations (which we always found to be very well chosen), entry fees or direction due to your well-organised planning beforehand.
Also we would like to inform you that we were very pleased with Pa Yon, who was a safe driver. Regarding the difficult roads we really appreciated his patience and cautiousness. Pa Cosmas, our guide, was an entertaining guide and travel companion who was always eager to make sure that everything was to our full satisfaction. We never felt the need to intervene or handle any situation ourselves we did not want to.
So all in all we are very happy with our choice of your company! Thank you very much, we will definitely recommend you ;-)
Yours sincerely
Philip
---
9.08.16
Hallo Gisela & Richard,
Sie haben mir einen wunderbaren Teil meines Indonesien-Urlaubs verschafft! Tausend Dank dafür!!! Ihre Organisation war Spitze!
Es hat alles auf das Beste geklappt. Die Hotels waren super, die Eco Lodges schön gelegen und gut ausgestattet. Das Essen ausgezeichnet. Und das Coconut Garden Beach Resort ist ein echter Geheimtip! Dort möchte man bleiben ...
Die Guides und Fahrer waren sehr gut, in Fahrstil, Kompetenz und Freundlichkeit. Die Flüge haben, mit den üblichen Verspätungen, alle gut geklappt. Airlines und Flugzeuge waren sehr in Ordnung.
Die Rinca Tour war einmalig. Schönes Wetter und 9 Komodo-Warane gesehen. Das muss wohl fast ein Rekord sein. Auch der Kelimutu war einmalig. Von der Schönheit her mit dem Bromo vergleichbar. Aber fast menschenleer - statt 10000 nur 100 Leute am frühen Morgen.
Alles in allem - Flores steht jetzt ganz oben auf meiner Favoriten-Liste. Ich werde Flores einem neuen Aufenthalt auf Bali vorziehen. Bali ist in meinen Augen mittlerweile zu sehr touristisch überlaufen, mit Konsequenzen auf Preise, Verkehr, Verschmutzung,... Die Qualität hat sich verschlechtert. Aber Flores ist schön, wenn man schöne Natur und Relaxing braucht. Es müssen ja nicht immer Tempel sein.
Herzliche Grüße und nochmals vielen Dank, Thomas Stüber.
Hier are some picture ©Thomas Stüber. Click to enlarge: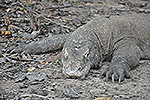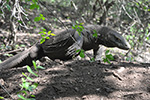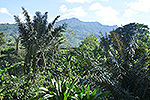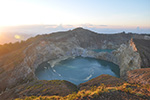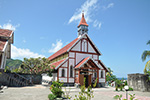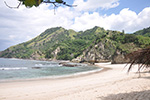 ---
1.07.16
Indonesien 2016 Reisebericht von Sandra Schänzer & Gerhard Schöning: Flores, Kelimutu, Komodo, Bali. Click on the picture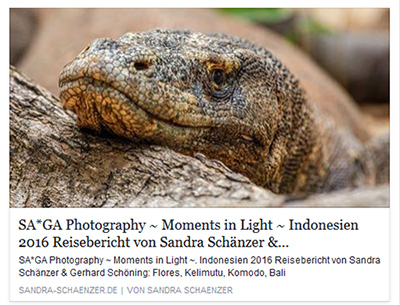 ---
19.06.16
Dear Richard and Gisela, We want to thank you for arranging such an amazing trip for us through Flores. our guide Jerry and driver Noly were both fantastic guides. We learnt a lot about the island and the traditions. We also had fun with them on our road trip from Laban Bajo to Maumere. Definitely a good idea to have a driver who knows all the bendy and twisting roads. We liked all of the accommodation you booked us. Especially Kelimutu Eco lodge and the Coconut Garden beach resort. Thank you again to Jerry for arranging the birthday cake. It was a special and unforgettable moment to have the nuns bring out the cake and sing happy birthday to Diane. We will definitely recommend your services to other travelers who are looking at coming to Flores. One thing is for sure is that we will be back to see more in the future. Name: Tony and Diane Country: The Netherlands ✉ Beck_tony(at)hotmail.com
---
4.05.16
Hallo Richard,
Wir möchten uns für die wunderschöne Rundreise herzlich bedanken. Sie hat große Eindrücke hinterlassen. Alles war supertoll,auch die Hotels.
Liebe Grüße
Diana und Familie
---
17.04.16
Wir waren im März 2016 von Maumere nach Bajawa unterwegs. ( Kelimutu ( die Lodge ist ein Traum) plattgefahrene Riesenschlangen auf der Straße, ,alte Ureinwohner Dörfer, blaue Steine sammeln am Strand ect. Und anschließend von Labuan Bajo aus auf Rinca und Komodo. Es war alles pünktlich und perfekt organisiert und wir sahen alles angebotene und auch auf die persönlichen Wünsche wurde eingegangen. Nebenkosten sind durch Essen und Eintritte als minimal anzusehen. Kontakt zum Reisebüro war immer recht flott. Und die anfängliche Angst wo schicke ich eigentlich mein Geld hin, war absolut unberechtigt. Falls wir uns erneut entschließen Bali zu besuchen, ist die Insel Flores erneut ein abwechslungsreiches MUSS, und wir werden die andere Inselhälfte bereisen. Und zwar nur mit diesem Veranstalter. Die Flugtickets auch, unbedingt dort, zum günstiges Selbstkostenpreis gleich mit buchen lassen. Rückfragen gerne unter Silke.Deurer(at)gmx.de
---
13.12.15
Dear Richard & Gisela,
Our group of 13 Portuguese's are safely back at home.
I would like to thank you all for all the efforts to make our road trip so good. I have some special words to tell you.
Resort in Maumere was amazing. The spot is great and the staff are all very kind. Also the rooms and the food were great.
All the others hotels were also great, specially Kelimutu and Puri Sari Hotel. Perfect settings and high quality facilities;
To our driver Alfredo, a very warm thank you for such a good driving. Sometimes the road was really snaky but he managed all the way very safe. The mini bus conditions were outstanding;
Finally, to our guide Johanes, many many thanks. It is hard to find such an humble and nice guide. He taught us many interesting stories and he showed us so different traditions. He really knows a lot about Flores, Flores' people and traditions. Also, he was so funny and explained so well all the stories. Perfect english, nevertheless he does not realize it.
For all of this, I would like to thank you so much for making our trip so great. Hope we can meet again! Kind regards, Pedro P.
---
28.11.15 Hallo,
Ich möchte mich noch einmal für die super Organisation bedanken, vor allem da es ja sehr kurzfristig war.
Die Guides und Fahrer waren sehr nett und kompetent, die Auswahl der Hotels war auch gut, vor allem das Coconut Garden Beach war überragend.
Natürlich hat mir die Insel auch sehr gut gefallen.
Viele Dank
Maximilian W.
---
30.08.15
Hallo Richard and Gisella we come back in Italy yesterday. I want to thank you for choosing us as a drive and guide Noly .A nice, fun, friendly and kynd man that introduced us to the beauty of this island and the people of this country and in more and even a Milan fun like us !! .Thanks, thanks a lot we dont forget him Alessandra e Maurizio (Italy)
---
21.08.15
Richard
thank you very much for your help on Flores :-)
Your idea of renting a car with a driver was very good. Without the driver probably would not have done.
Donatus is the best driver I've ever met during our trip! :-)
During our visit to Flores he was very friendly and very helpful.
I recommend to your services in the largest Polish globetrotter forum www.travelbit.pl/forum
Regards Slawek, Karolina i Natalia (Poland)
travel blog
---
18.08.15
It was all totally fantastic and brilliant and unmissable so a huge thanks for your arrangements drivers and overall helpfulness
Rachel and Family (UK)
---
3.06.15 Dankeschön
Hallo Gisela und Richard,
wir wollten uns nochmal kurz melden. Die Reise war bedingt durch Jani und Donatus ein richtiges Highlight. Es hat uns riesig Spass gemacht und es braucht bestimmt noch viel Zeit, um die vielen verschiedenen Eindrücke von Flores zu verarbeiten.
Herzlichen Dank für die Organisation und liebe Grüße aus Bali
Margit und Ralf H. (Germany)
---
5.05.2015
Hallo Gisela und Richard
Wir sind wieder gut in der Schweiz angekommen.
Wir möchten uns nochmals für die perfekt organisierte Reise bedanken.
Trotz den paar wetterbedingten Abweichungen hat uns die Reise sehr gut gefallen.
Ein besonderen Dank an Jerry und Nolly. beide hatten sich bestens um uns gekümmert und wir hatten viel Spass zusammen.
Wir werden sie gerne weiter empfehlen.
Mit freundlichen Grüssen
Erich, Pan und Nicolas
---
12.4.2015
Hallo Gisela und Richard. Wir hatten wunderschöne Tage. Emi und Novi verwöhten uns von morgens bis abends, sie waren wunderbar. Die Villa Impian ist ein Bijou. Wir möchen uns nochmals für die schönen Tage bei Ihnen und bei Emi und Novi bedanken. Vielen herzlichen Dank. Verena und Anton G. (Schweiz)
---
3.11.2014
Leider hat mich der Alltag wieder und die Arbeit hat wieder begonnen. Ich möchte es aber nicht unterlassen Ihnen, Ihrem Team und vor allem Kriss und Ito zu danken. Dank Ihnen konnten wir Flores sehr genießen und haben einiges erlebt. In diesem Sinne ein ganz großes MERCI von der anderen Seite der Erde. Lieber Gruss Marlen G. Schweiz
---
1.05.2014
Hallo Gisela und Richard, Hallo Flores, Jetzt sind wir schon wieder eine Woche zurück im "normalen" Leben, und der Alltag hat uns fest im Griff. Doch die Erinnerung an Flores ist noch hellwach. Wir möchten speziell bei Euch nochmal "Danke" sagen für all die Unterstützung bei der Vorbereitung der Reise, der Abstimmung und der Betreuung im Hotel. Wir hatten nie das Gefühl, auf geschäftlicher Basis einen Urlaub zu buchen ( ala Reisebüro), eher war es , als stimmen wir uns mit Freunden ab. Ja, es war eine Traumreise! Ohne Abstriche! Alles, aber auch alles hat gepasst und unsere Vorstellungen haben sich erfüllt - wir waren im "Paradies". Herzlichen Dank natürlich auch an alle Beteiligten, z. B die Bootsbesatzung in LB, unseren Driver Don, die Gärtner, die Küche,... Es war einfach eine sehr schöne Zeit. Euch beiden wünschen wir Gesundheit und weiterhin viel Spass im "Paradies" und bei Euren Touren. Viele Grüsse aus dem Vogtland bei 10 Grd C von Petra und Rainer
---
22.04.2014
Sitze am Rechner und bearbeite unsere Bilder für ein Album, da kommen all die schönen Erinnerungen. Es war wunderschön, ich hoffe wir sehen uns einmal wieder!!!! Joachim, Nadja & Hannah
---
1.06.2013
wir waren zu dritt, uns hat flores (Rundreise) sehr gut gefallen. Es war alles super organisiert. Ein Erlebnis auch der Besuch von Komodo mit dem Schiff.Würden es wieder machen. Unser Fahrer Donatus hat uns viel gezeigt, er spricht Englisch. Diese 8Tagereise kann ich nur weiterempfehlen. Anna Steiner
---
7.01.2013 Thanks for a great holiday!
Dear Gisela and Richard, I arrived home yesterday and just wanted to say how much we enjoyed our stay and overland trip. The accommodation at Sea World was great and Pak Chris and Don were professional and good company on our 5 day adventure across Flores. The boat trip to visit the Komodo National park was also great. Thanks again for making our holiday enjoyable. Flores was definitely the highlight of our three weeks in Indonesia and we have already recommended you to other travelers. ..... Regards Jim, Tiffany and Zoe (Cairns, Australia)
---
Guestbook -Testimonials
Been traveling with us? Send us your own testimonial or feedback and tell us about your experience on Flores via the form belowe or send us simply an e-mail to floresindonesiatours(at)gmail.com .
If you have any photos you'd like to share from your tour, including a photo we could publish with your comments, please email them to floresindonesiatours(at)gmail.com.