14 Days Indonesia: ORANG-UTANS, DRAGONS & VOLCANOS
Nature, safari and culture tour in Indonesia
Java ◊ Kalimantan ◊ Komodo ◊ Flores
ITINERARY:
✈ Yogyakarta ➝ Borobudur ➝ Surakarta (Solo) ➝ Semarang ✈ Pangkalan Bun (Kalimantan) ➝ Orang-Utans in Tanjung Puting National Park✈ Surabaya ➝ Volcano Bromo ➝ Surabaya ✈ Komodo National Park ✈ Ende ➝ Volcano Kelimutu ➝ Maumere ✈
Day 1:
Arrival in Jakarta (Capital City of Indonesia) ✈ Yogjakarta (Central Java)
Pick up from Airport in Yogyakarta and transfer to your hotel. Depending on your choice accommodation either in the first-class boutique hotel The Phoenix Yogyakarta with colonial ambience or alternative in a charming small Budget Hotel.
Upon arrival late afternoon in Jakarta an overnight stay in Jakarta can be necessary before you can fly to Yogyakarta. The following program will remain unaffected of it.
---
Day 2:
Yogyakarta City Tour ➝ Prambanan Tempel
Yogyakarta in the Centre of the Indonesian Island of Java is together with the neighboring city of Surakarta (Solo) the centre of the traditional Javanese culture. With several universities, particularly with the prestigious Gaja Madah University, Yogyakarta is also the Indonesia's Education Center. Traditional Javanese culture and arts are here firmly rooted and Yogyakarta is home to several art, music and dance schools.
During the city tour, you will have opportunity to visit in the old town (Kota Gede) the Sultans Palace (Kraton) witch is with 14,000 square meters a kind city within a city. The Kraton was built around 1750. Parts of the Palace are open for tourists visit. The Museum shows mainly traditional court scenes and the appropriate clothing are admired.
After that we visit Taman Sare. The water Castle (built 1758 until 1765) served as a pleasure palace of the Sultan where the harem live. The castle was surrounded by a lake and only reachable on the waterway. The Lake no longer exists and the Castle is actual a ruin. Preserved are the bathing pools Taman Sare, which can be visited. If the time allows you can stroll through the traditional Beringharjo market on Jalan Malioboro and in case you are interested a batik factory or silversmiths can be visited. Yogyakarta is known for its fine silver and batik work all around Asia.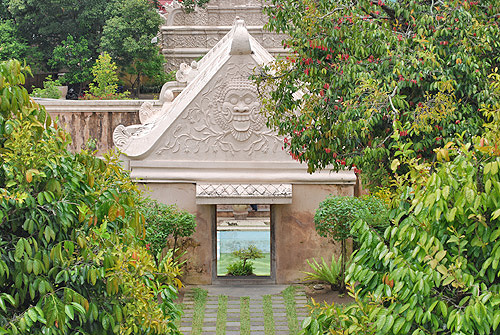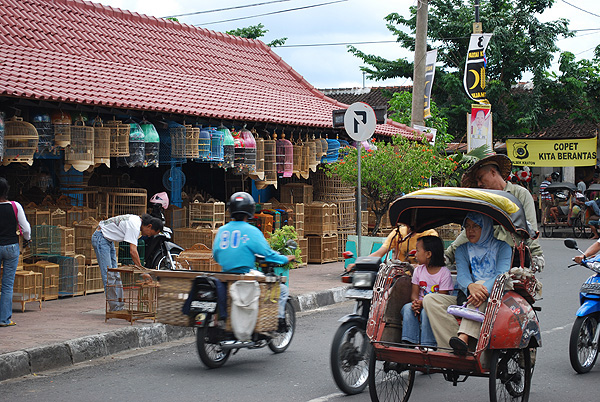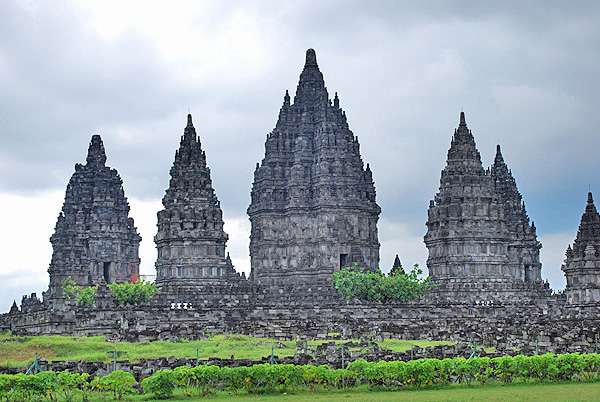 In the afternoon we visit the huge Prambanan Tempel complex, which was built to honor the Hindu gods Shiva, Brahma and Vishnu. Loro Jonggrang Tempel was build in the 10th century and is the largest Hindu Tempel complex in Indonesia. The Tempel consists of a main building in the middle surrounded by eight smaller various deities consecrated Tempels and countless much smaller. All of the Tempels exhibit a high top design. In 2006 the Tempel was heavily damaged by a strong earthquake and not all areas are accessible to visitors.
Than we drive to you accommodation which is very close to Borobudur. You overnight in a small family run village bungalows or in the chariming Amata Borobudur Resort
---
Day 3:
Borobudur Tempel ➝ Surakarta (Solo)
After an early breakfast we drive to Borobudur Tempel which is only few minutes drive away. It's a Buddhist sanctuary and one of the largest Buddhist Tempel in Southeast Asia. The impressive Borobudur Tempel is situated on a hill and is designed as a step pyramid. On a square Foundation of 123m length there are nine storey's. Each higher level represents a further development of the people. On the terraces there are many alcoves and Budda statues and a total 5 km-long reliefs that tell about the live of Buddha. Six terraces are square and the upper three circular. There are 72 stupas each housing a Budda statue on the upper terraces, which are devoted to the enlightenment. From the top, you have a fantastic view over the countryside and over the mountains.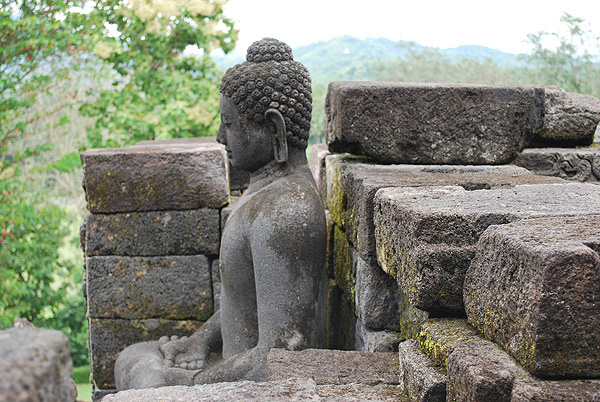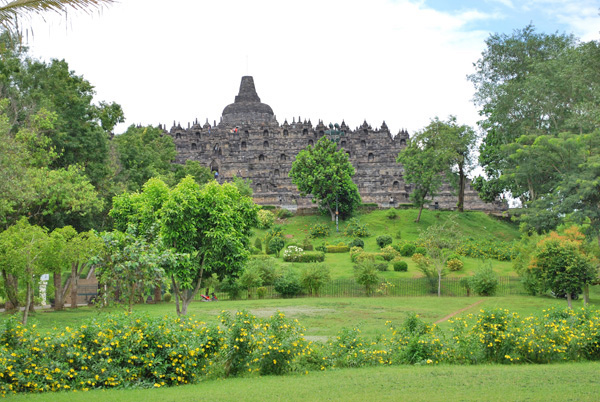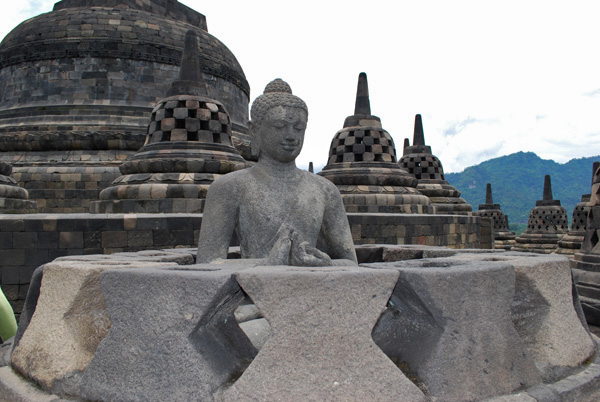 Then drive to Surakarta (Solo), which we reach after about 2 hours drive. In Solo, you can visit the antique market, Kampung of batik and village of Gongsmith.
Overnight stay in a heritage hotel in Solo.
---
Day 4:
Surakarta ➝ Semarang ✈ Pangkalan Bun (Kalimantan)
After an early breakfast we will visit Mangkunegaran Palace in Surakarta und drive than to the airport in Semarang for your flight to Pangkalan Bun on Kalimantan Island.
Tanjung Puting National Park in Central Kalimantan (Indonesia Borneo) is one of the few remaining places on earth where Orang-Utans can be seen in the wild. Beside of Orang-Utans eight other primate species and rich bird life can be observed here.
You will be picked up from airport in Pangkalan Bun and overnight tonight in Arsela Hotel before you start tomorrow you jungle adventure and Orang-Utan Safari.
---
Day 5:
Pangkalan Bun ➝ Kumai ➝ Tanjung Harapan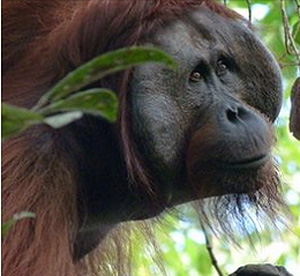 At 9am your Guide will pick you up in hotel and transfer by car to the National Park Headquarters in the port of Kumai where you board your "klotok", a traditional riverboat for a leisurely boat ride on the Sekonyer River. Get immersed in the sheer beauty of Tanjung Puting National Park with its nipah palm vegetation, proboscis monkeys, long tailed macaques and more.
Today we visit the Tanjung Harapan Feeding Station , where you experience your first encounter with critically endangered Orang-Utans. This station whas build in the late 70's and is located on the place of the original Sekonyer village. It is today rehabilitation center. At 3pm at the feeding station you can observe the majesticaly Oranutans in there natural envairoment. You can also visit the Sekonyer village over the river to get an inside of the daily live of the village.
Depending on your choice accommodation in comfortable Rimba Orang-Utan Ecolodge surrounded by rain Florest on the edge of the Sekonyer River and only accessible by boat or you can also opt to stay on the Klotok (houseboat) what is a near-natural Camping experience.
---
Day 6:
Pesalat ➝ Camp Leakey
If you wake up early, follow the boardwalk from the Rimba lodge to the Lookout through deep Florest. Discover endemic birds and possibly wild Orang-Utans. Return to the lodge and enjoy breakfast. Then, board your river boat and travel 15 minutes to the Pesalat ReFlorestation Center. This Florest regeneration area offers a nice easy walk through peat swamp and dry land, nice birding, a medicinal plant area and it allows you to select saplings such as Ironwood and plant them. Talk to the local ranger and learn about the different stages necessary to grow ironwood. Clouded Leopard and Sun bears have occasionally been spotted in this area.
At 11:30 return to your boat and travel the Sekonyer River to Camp Leakey. Lunch is served on board. Camp Leakey is a landmark research and rehabilitation center established in 1971 by renowned primatologist, Dr Birute Galdikas and her former husband Rod Brindamour. Observe Orang-Utans in the wild and discover their vulnerability. Camp Leakey also offers an informed information center with a strong educational purpose.
Please follow recommendations and do not touch or disturb Orang-Utans(humans transmit diseases), do not eat or drink in front of them, keep the area pristine.
On the way back watch for proboscis monkeys (Nasalis larvatus) roosting in trees on the rivers edge.
Accommodation in Rimba Orang-Utan Ecolodge or on Klotok.
---
Day 7:
Transfer to Pangkalan Bun Flughafen ✈ Surabaya
After breakfast at Rimba lodge boarding the "klotok" and take a leisurely boat ride before returning to Pankanlan Bun airport throu the port city of Kumai. Revive all your senses and let them retain the magic of Tanjung Puting National Park. Listen to the sounds of Kumai all day loudspeakers emanating from tall buildings where swift nests are being commercially harvested. The swift saliva is used for bird's nest soup and can reach 13 millions Rupiah and up per Kg. Indonesia is the biggest supplier and the trade has led certain swift colonies to be critically threatened.
Pick up from airport in Surabay and driver (approx. 3-4 hours) to Volcano Bromo. Accommodation in comfortable, scenic and quiet located Jiwa Jawa Resort Bromo outside of the touristic and not particularly attractive Cemoro Lawang village.
After your eventful Orang-Utan Safari you can also take a break in Surabaya and leave to Bromo the next day. A swim in the pool, a spa treatment in the beautiful and historic Majapahit Hotel sure feels good. The next day visit House of Sampoerna in "old Surabaya", which is a Museum and one of the oldest working factory of hand-rolled Kretek cigarettes made of tobacco and cloves. After that visit of Klenteng Hong Tiek Hian Tempel where 3 religions pray at the same place and than visit of Cheng Ho Mosque known for its unique Chinese architecture. After this small city tour in Surabaya drive to Bromo.
---
Day 8:
Jeeptour & Hiking Bromo Volcano
The volcano Bromo is 2329 m high and is a part of the Tengger volcanic massif. It is one of the most active volcanoes on Java and a popular tourist destination. To see the Sunrise, it is necessary to get up early. You will be picked up about 4am from hotel and drive by jeep to View point Penanjakan , where you wait for the Sunrise. Don't forget warm clothes, because at this altitude it is in the morning quite cold. Then we continue to the edge of the crater of Bromo volcano. At first walking through a sandy desert, passing the Hindu Tempel Pura Luhur Poten and then 256-step staircase have to be climbed up to the crater. The way until the stairs you can also ride a horse. If you wish this please talk to your guide and he will organize it. After hiking back the jeep will bring you back to hotel for breakfast. Then you drive back to Surabaya and overnight in stylish and historic Majapahit Hotel Surabaya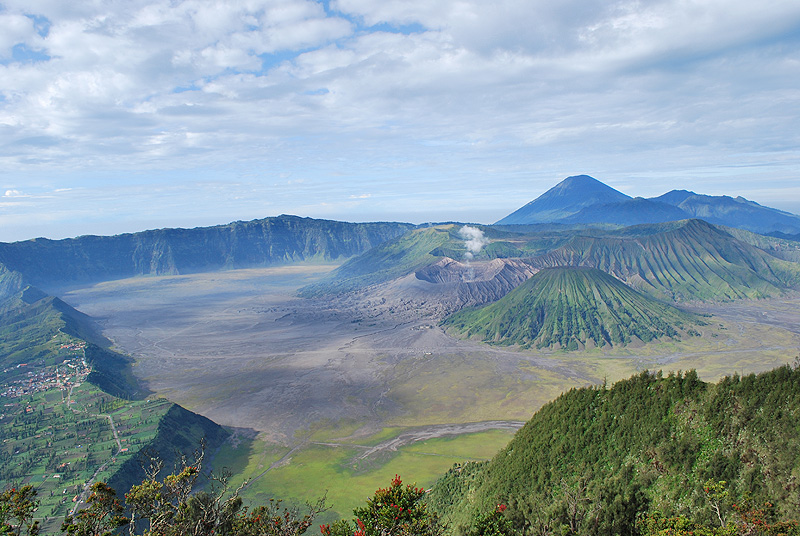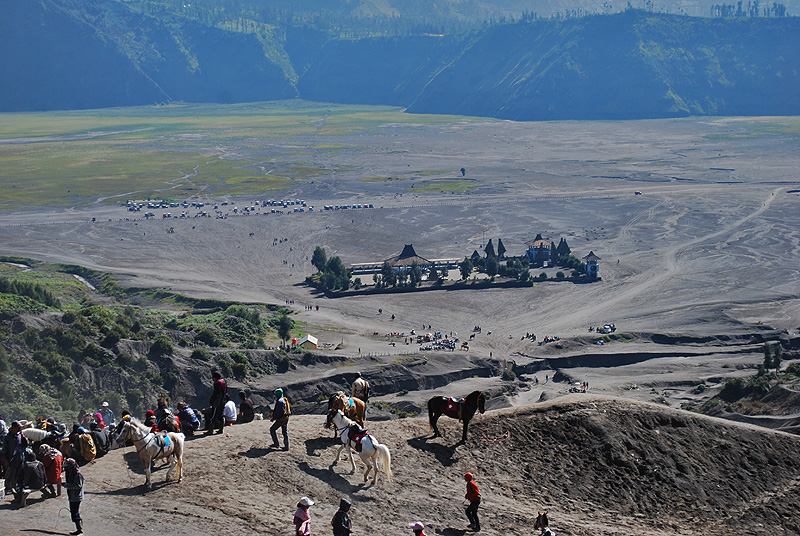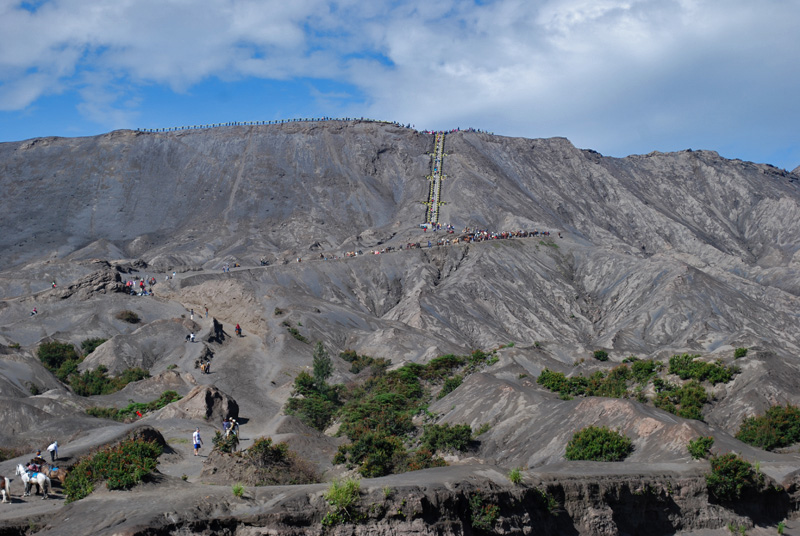 ---
Day 9:
Transfer to airport in Surabaya ✈ Komodo Flughafen/Labuan Bajo (Flores) on Flores Island (Komodo)
Pick up from Komodo Airport in Labuan Bajo and Transfer to Hotel. Accommodation in Puri Sari Beach Hotel in Labuan Bajo
---
Day 10:
Labuan Bajo ➝ Kelor Island ➝ Menjerite ➝ Rinca Island ➝ Kalong Island
At 8: 00 you will be picked up from the hotel and after 15 minutes drive we reach the harbor of Labuan Bajo. Here we board your private boat with cabins for 2 days sailing in Komodo National Park. First, we sail about 1 hour to Kelor Island, where you can snorkel. After another 30 minutes, we reach Menjerite, one more place for snorkeling. During a further 1 hour sail we reach Rinca Island. Here we make a hike of about 1.5-2 hours with a Ranger of the National Parks and you will see Komodo dragons and other animals such as wild boars, Timor deer and monkeys. There are also breathtaking views of the slopes. Then we sail to Kalong Island, where you can see a large colony of flying foxes as they leaves at dusk the Island in all directions. Overnight on boat.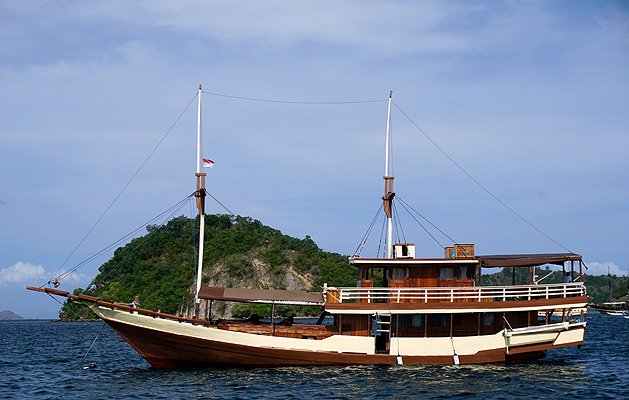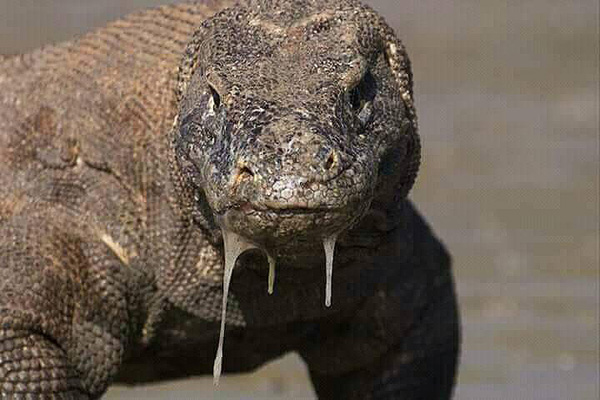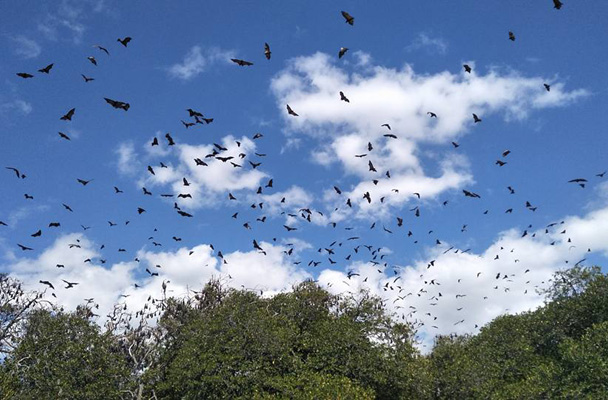 ---
Day 11:
Komodo Island ➝ Pink Beach ➝ Manta Point ➝ Labuan Bajo
After breakfast on the boat, we start very early a 2 hour hike on Komodo Island to see Komodo Dragons when they leave there hideouts and go into the sun. After returning to the boat we sail first to Pink Beach, where you have time to relax and have snorkeling and then continue to Manta Point to snorkel with Manta Rey. On the way back to Labuan Bajo, there is still possibility to snorkel or you can hike to the view point of Padar Island. Late afternoon we arrive back in Labuan Bajo. Accommodation in Puri Sari Beach Hotel in Labuan Bajo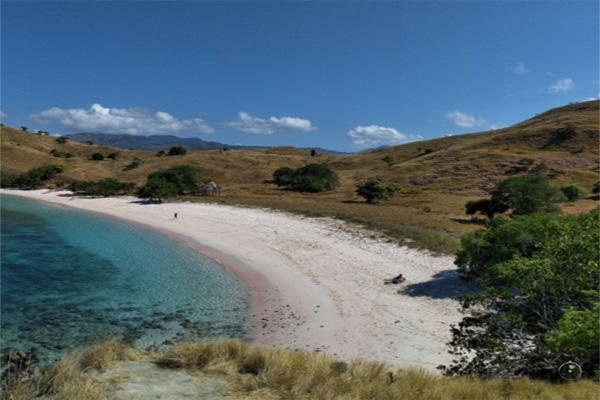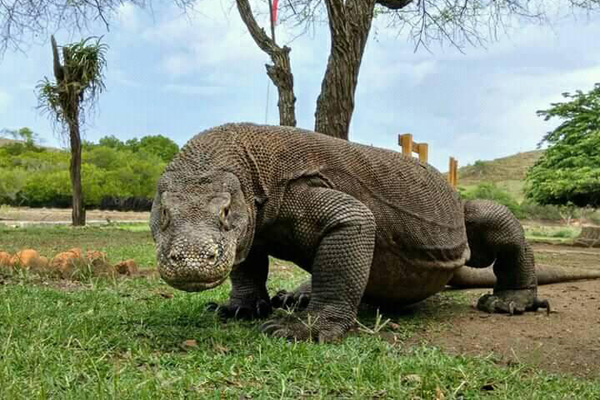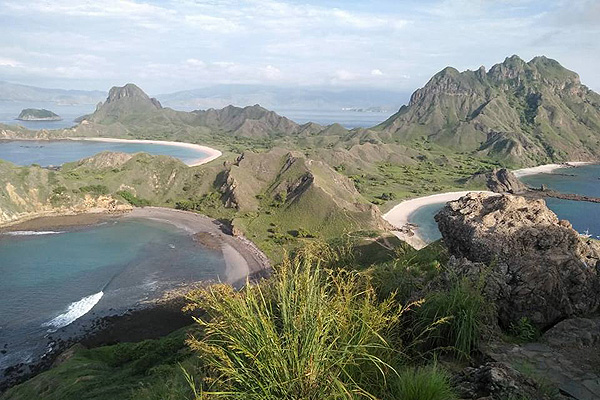 Instead of overnight stay on the boat, you can make day trips with speed boat Speed Boatfrom/to Labuan Bajo
---
Day 12:
Labuan Bajo ✈ Ende on Flores Island ➝ drive to Moni
Pick up from the airport in Ende, continue to Moni. Upon arrival in Ende in the early morning there is possibility a detour to the Penggajawa Beach (blue stone beach), which is strewn with many colored stones. The stones are predominantly blue to turquoise, but also green and red stones are in between. On the way from Ende to Moni we can visit the village Wologai with well-preserved traditional houses in the for Ende/Lio region formerly typical Lioneser architecture. Accommodation in a bungalow in Kelimutu Eco Lodge which is remote located surrounded by beautiful natur just outside the Moni village.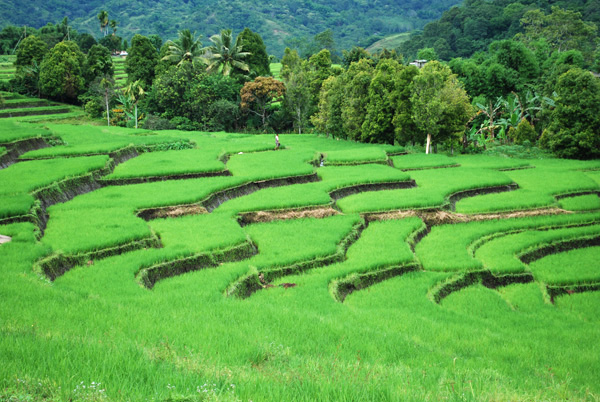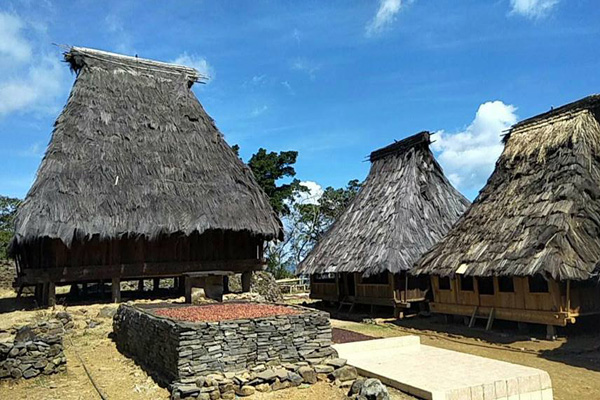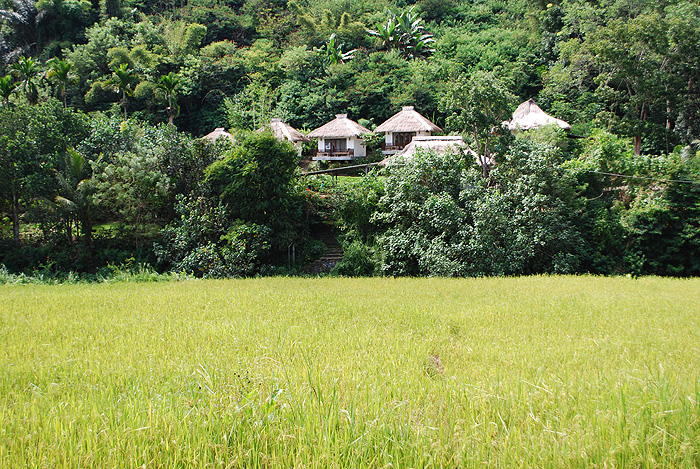 ---
13. Tag:
Tree color lakes of Volcano Kelimutu ➝ Maumere
Kelimutu is a volcano near the Moni village in Central Flores in Indonesia. The Volcano Kelimutu consists of three crater Lakes, which have different colors because of minerals. The colors of the Lakes have changed several times dramatically over the last years.
The Lunar of crater is a hideout of the spirits according to the beliefs of the locals. Then the souls of boys and girls live in the Tiwu Nuwa Muri Koo Fai , which change the color between turquoise, blue and white greenish In Tiwu Ata Polo the sinner wait till night, to fly up with the wind and destroy every living Intruder. This lake change the colors between red, dark green, dark red and green color. The souls of the ancients rest in the Tiwu Ata Bupu. The now almost black Lake was once dark blue then light blue to white. The name of Kelimutu itself in the local language means 'keli' = 'mountain' and 'mutu' = 'boiling'.
On this day, we have to get up early in the morning and after a cup of coffee or tea, we drive to the volcano Kelimutu. After 30 minutes we reach the parking lot, and here a pleasant walk about 1.5 km and 127 stairs leads to the terrace of Mount Kelimutu at 1690 m altitude. From here, you have wonderful views of all three colored crater Lakes of Kelimutu and the surrounding countryside. Approximately at 10: 00 fog or clouds can come up and prevent the view so it is important to be up at least between 8 and 9. In the midst of this lunar landscape, the colors of the Lakes look spectacular. It's always a surprise what colors the Kelimutu Lakes will have when we visit.
From Kelimutu, we descend to the Hotel for breakfast, and than continue our trip to Maumere passing Sikka village on the south coast of Flores Island. This village is famous for the traditional ikat-weaving and the old church, dating from the end of 19 century. You have some time to relax on the wonderful Koka Beach and than we continue our journey to Maumere. Enjoy the breathtaking views of this spectacular volcanic terrain, with plantations and villages clinging to mountain sides. We can stop along the way to make short walks at points of interest.
Depending on your choice you will stay in a comfortable and charming beach front bungalow in Amrita Beach Resort on the beautiful Waiara beach or with additional charge in the stylish and as well comfortable Coconut Garden Beach Resort or in our Waiara Village Guest House.
---
Day 14:
Departure from Flores Island ✈ Jakarta
The tour ends with transfer to airport in Maumere for your flight to Bali. If you take the afternoon flight out Maumere you have in the morning the possibilities to make half day Village Encounter in the surroundings of Maumere or just relaxe on volcanic beach with good swimming and snorkeling in your beach front resort in Maumere Bay.