Kelimutu Crater Lakes Eco Lodge in Moni
is beautiful and idyllic located surrounded by jungle and rice fields. A monutain river flows through the resort. This small eco resort offers 21 rooms in 5 standalone bungalows, 4 douplex bungalows, a 3room lodge and another 5 standard rooms above the restaurant. All rooms have terraces with views to the beautiful tropical garden, the surrounding jungle or rice fields
Kelimutu Eco Lodge is located just outside of the village Moni in calmly and secluded location at the foot of the Volcano Kelimutu.
It is an ideal place for nature lovers and hikers who want to visit the 3-coloured crater Lakes of the volcano Kelimutu, explore the unique flora and fauna of Mount Kelimutu National Park as well as hikes to surrounding traditional villages, water fall and hot springs.
5 stand alone bungalows with open bathrooms
4 Duplex-Bungalows and 1 Lodge with 3 rooms
In each Villa are 2 rooms with private bathroom and connecting door between the rooms, so that these bungalows perfect suited the needs of families or group of friends. Because of the U shape of the terraces, both rooms have still private terraces. All bungalows have beautiful views of the rice fields in Moni. In one of the villas are 3 rooms.
---
Kelimutu Tour Package
The volcano Kelimutu with its changing color lakes is an active volcano near the town of Moni in Central Flores in Indonesia.The volcano Kelimutu consists of three crater Lakes, which are colored by minerals. The colors of the Lakes have changed several times dramatically over the last years. The Lunar of the craters is according to the belieft of the locals a hideout of the spirits .
---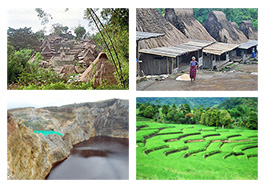 Explore Ngada Villages & Volcano Kelimutu
Although Flores Island is predominantly Catholic, there are well preserved traditional villages where still megaliths are alive. These villages are isolated and embedded between two volcanoes Gunung Inerie and Gunung Deru. You can see here a certain form of folk architecture with shrines for male and female ancestors (Ngadhu and Bhaga) in the middle of these villages.The daily life is still influence by animistic rituals and ancestor worship. You can visit the villages Bena and Luba comfortably by with an overnight stay in Bajawa. The visit of another even more isolated Ngadha villages like Desa Gurusina, Desa Belaraghi, Desa Tololela is by hiking from/to Bajawa.
---